Fastrain was recently presented with the "Best Business Continuity Plan Award for the Year 2020" at the 2021 Global Suppliers Event of II-VI Incorporated, a global leader in engineered materials and optoelectronic components.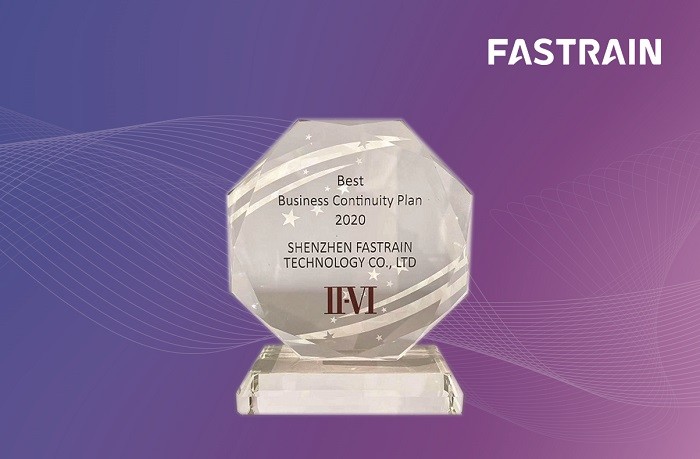 II-VI stated that the Best Business Continuity Plan Award was "in recognition of Fastrain's excellence in collaborating with II-VI to achieve the highest levels of performance, innovation, and service in 2020". Specifically, II-VI thanked Fastrain for the outstanding contribution in providing excellent continuity of supply during the Covid-19 pandemic. Even with the difficulties of the pandemic, Fastrain managed to resume work safely and orderly in the early stage of the outbreak and open a new factory in Malaysia which provided important support to II-VI's manufacturing.
This award is a recognition of our customer-focus strategy, and demonstrates how Fastrain leverages their global reach to provide distinguished supply chain services to global customers.
About II-VI Incorporated
II-VI Incorporated, a global leader in engineered materials and optoelectronic components, is a vertically integrated manufacturing company that develops innovative products for diversified applications in communications, materials processing, aerospace & defense, semiconductor capital equipment, life sciences, consumer electronics, and automotive markets. Headquartered in Saxonburg, Pennsylvania, the Company has research and development, manufacturing, sales, service, and distribution facilities worldwide. The Company produces a wide variety of application-specific photonic and electronic materials and components, and deploys them in various forms, including integrated with advanced software to support our customers. For more information, please visit us at www.ii-vi.com.
About Fastrain
Fastrain is a professional manufacturing solutions provider of high-quality, durable electronic products, headquartered in Shenzhen, China, with additional regional and global operations across Thailand, Malaysia and HK. Fastrain has accumulated extensive experience from our 15 years of operation and has been providing best-in-class services, including Design, Manufacturing, Testing and Supply Chain solutions for industry leaders in Optical Communications, Marine Communications, Automotive Electronics, etc.